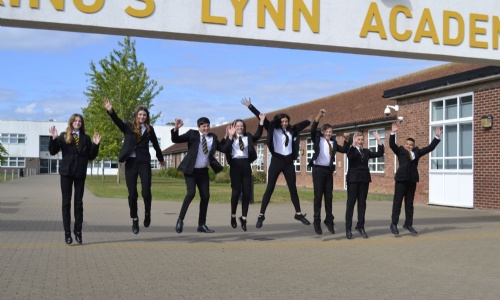 KLA is a 'good' school for the first time in its history.
"Pupils feel cared for and supported because of leaders' moral imperative to do what is best for them. Every pupil is made to feel like they belong and that they can achieve."
Ofsted has published its report on the inspection of King's Lynn Academy on 17th and 18th May 2022 with all areas inspected achieving a Good grading for the first time in the academy's history.
Paul Shanks, Chief Executive of the Eastern Multi-Academy Trust, of which KLA is part of, said: "We are delighted that Ofsted has recognised the hard work and determination of the students, staff and KLA community. We are proud to be working with such a dedicated and professional team to ensure that our students receive a good education and look forward to supporting the academy to build on their successes."
"It is clear from the findings that Ofsted recognise how well students are cared for and supported, and that the moral imperative to do what is best for them is key to everything the academy does."
"We are really pleased that the inspection team recognised the strong partnership working between the academy and Trust, in particular the report notes that, 'Leaders evaluate the strengths and development areas of the school well. They lead the school effectively. The trust has played an active role in enabling school leaders to focus on the core priority of raising standards. This has included supporting leaders with human resources, finance and high-quality partnership support with external organisations, such as working with a teaching school to ensure a high quality programme of training for early careers teachers (ECT's).'"
"The report acknowledges the hard work, dedication and determination of everyone involved in the academy to ensure that KLA is recognised as a good school in the area. The report is also important recognition for the student body who work diligently and strive to be the very best that they can be every day. They should be rightly proud of all that they achieve."
The Principal of King's Lynn Academy, Mr. Alan Fletcher added, "We are delighted that the inspection report recognises the significant work of our team in ensuring we offer a good education to all of our students. King's Lynn Academy has not previously been recognised as a good school, and this is a significant achievement for our staff, students and parents. Despite this fantastic achievement, we are determined to continue the hard work and for KLA to go from strength to strength and offer an excellent education to all."
Read our full report here: Ofsted | King's Lynn Academy